Shadowlight (2018)
wind ensemble
Performances:
Dec 2022
Boston Conservatory Wind Ensemble, Boston, MA
Matthew Marsit conductor
May 2019
Charles River Wind Ensemble, Boston, MA
Matthew Marsit conductor
November 2018
Dartmouth College Wind Ensemble, Hanover, HN
Matthew Marsit conductor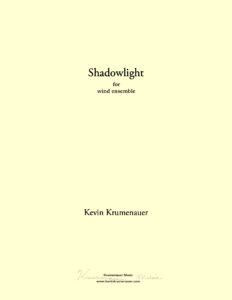 Program Note:
"Where words fail, music speaks." -Hans Christian Andersen
Scott Smedinghoff, June 15, 1987 – January 13, 2016
In January of 2016, Scott was in his fourth year as a PhD candidate in mathematics in the field of Noncommutative Geometry. Officially a student at Dartmouth College, many in the music department viewed Scott as a colleague, and to the undergraduate students, a mentor. Scott was a natural and gifted teacher. His desire to share his knowledge and passions with others was very much a part of his generous nature, and a skill into which he placed a great deal of effort. While, achieving at the highest levels in his declared field of mathematics, Scott was a truly outstanding musician of unique ability. His massive intellect and strength in mathematical reasoning, combined with his deep passion for the modern, avant-garde and most technically challenging repertoire, allowed Scott to stand out in the field of music.
Scott was a relatively quiet, introverted soul, with a fantastic sense of humor, sharp wit, and infectious laugh, but it was through musical collaborations that he connected with people on a very deep level, quickly earning their respect, admiration and love. Scott worked professionally as a collaborative pianist and organist, serving a number of churches and for several community choral organizations, work that continued during his graduate studies. His passion for contemporary music is what drew Scott into the wind ensembles at both Williams and Dartmouth Colleges, allowing him to connect with an even larger community of musicians.
There are never enough words to describe the life of someone who means so much to so many people. That is why where our words fail, we allow our music to speak.
Matthew Marsit Director of Bands, Dartmouth College
I met David Maslanka in 1997, but I had played his music earlier at an All-State honor band led by Gary Green. I was immediately impressed and drawn to his music. To me, he was someone who knew how to write for wind band. It was music that had a depth and a power that I had not experienced before. I made the decision as a senior in high school to write to him, but I didn't. It would be a few years before his music would enter my life again.
I re-encountered David at Georgia State University where he was brought in once a year or so by Thom Wubbenhorst, the director of bands during my time at State. After a few meetings and individual composition lessons I made the decision that I wanted to study with him. So I approached Dr. Wubbenhorst and asked for David's contact info. That began a twenty- year relationship that started off as an informal mentorship and grew into a close friendship. David never gave up on me, even during the times I had given up on myself. He was always there, gently pushing, bringing me back again to my music. He was a man of humor, great intellect, deep passion and, of course, enormous patience. His passing has left a space that will not soon be filled.
When I was asked by Matthew Marsit to step in and fulfill a commission that was left open by David's passing. I was honored, and humbled, and quite honestly scared. I am not David, nor can I try to be. One lesson David taught me was to be, unequivocally, yourself and that your voice is the most important thing you possess. In his music, David often had a fondness for two things, the chorale melodies harmonized by J.S. Bach and the theme and variation process. It seemed fitting to use them here to memorialize not only David, but more importantly, the person to whom the work is dedicated Scott Smedinghoff.
The title refers to the seeming duality of existence. There is light, there is darkness, but there is also light beyond the veil. Shadowlight refers to this idea, that though the person may be gone from our everyday, immediate access, they are not gone completely. There is still light beyond the veil that separates the living from the dead and that, though we mourn the passing, we celebrate the life and the joy of the person. So this piece has become in a sense a double-memorial, to the lives of those we lose too soon and to the memory of all that they have left behind in this world; that we can still see and grasp and know the daily evidence that they were here and that we are the better for it.
Kevin Krumenauer April 30, 2018